WHERE OUR CUSTOMERS SEND THEIR FRIENDS!
At Precision Alignment and Brake Ltd., we provide honest, quality service to maximize the life of your vehicle.
We do more than just "align" wheels and brakes. We are a full service auto maintenance and repair shop.
We "align" your entire vehicle with:
quality inspections and repairs

friendly service

competitive prices, and

valuable advice for how you can

keep your vehicle running smoothly
What sets us apart from other auto maintenance shops is our commitment to being proactive with vehicle care.
AUTO REPAIR SHOP IN CALGARY
Precision Alignment and Brake is a full service auto repair shop in Calgary. Our experienced and qualified Calgary mechanics can handle any vehicle repair or maintenance that you may need. We provide the highest possible service for the lowest price. We use high quality parts and employ highly trained technicians but still offer our services at fair prices. Our Calgary auto repair shop completes all work on vehicles in an efficient timeline. We know it is important to have a vehicle in Calgary so we work with you to get your vehicle back to you in a time frame that works for you.
At the Precision auto repair shop in Calgary we employ highly trained mechanics who specialize in various vehicle repair services. Our qualified technicians are experts in services such as wheel alignment, brake repair, vehicle inspections, suspension repair, vehicle maintenance and much more. We believe in having a number of auto technicians who can handle specific vehicle repairs so you can be assured your vehicle is repaired correctly the first time. Our Calgary mechanics have over 40 combined years of experience working on all makes and models of vehicles and repairing a wide variety of different vehicle issues. When you bring your car, truck or SUV to Precision Alignment and Brake you can be assured your vehicle is in good hands.
For high quality, efficient auto repairs in Calgary at low prices bring your vehicle to Precision Alignment and Brake. No matter the make or model of your vehicle we have an auto technician who can provide you with the repair you need. Book your auto repair appointment with us today!
Testimonials: We Love to Hear From You

MEET OUR HIGHLY-TRAINED STAFF AND TECHNICIANS WHO CARE ABOUT YOU AND YOUR VEHICLE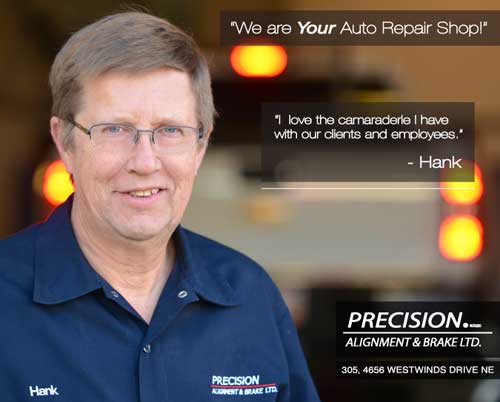 Hank and his wife Carol have owned and operated Precision for 15 years. Together they embody Precision's commitment to quality, integrity, and great customer service.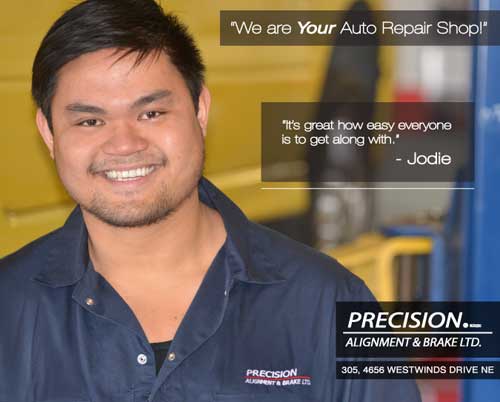 Jodie has been an auto technician for 8 years, 4 of those at Precision. He takes enormous pride in providing the best possible vehicle maintenance and repair service.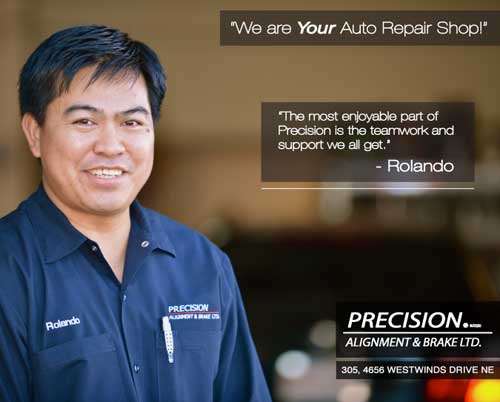 Rolando has been an automobile technician for 10 years, and he is entering his fourth year at Precision. He has had numerous training courses focused on Japanese cars, but his expertise and experience extends to all vehicles.
Contact Us to Setup an Auto Repair Appointment Today!
Copyright 2018 Precision Alignment & Brake Ltd.